Book Review: Cardcaptor Sakura Vol. 1 - 4
Hello,
It's great to be reviewing Cardcaptor Sakura's manga series since I grew up loving the anime back when I lived in Mexico. I watched the whole series twice and it is because of that that I couldn't help noticing the differenced between the anime and the manga.
I love both dearly, and I would love to tell you all about it.
Let's get started:
Description:


From Clamp comes the thrilling adventures of Sakura, a fourth-grader who accidentally finds an enchanted book called The Clow. The book once contained a set of magical Clow Cards, but they all escaped while the guardian of the book fell asleep. Now, Sakura is thrust into a mystical journey to capture all the cards before they wreak chaos and destruction!
Review:
Like I said, I grew up with the Cardcaptor anime experience while in middle school. Getting my hands into these books was like an instant flashback that made me love them all the way more, and I need to say, there are several differences I noticed between the anime and the manga books.
I missed the color and the movement the screen provided, but I was familiar enough to bring the characters to life in my head just fine. I'm not going to break down the review book by book, but I will give you an overall opinion of the series. I hope that is enough.
Let me tell you tell you about the story: Sakura Kinomoto is an elementary school girl in charge of gathering magic cards with powers created by a powerful magician named Clow Reed. She released the cards from the book that contained them when she accidentally stumbled upon it, and they scattered around her town. Simultaneously, she woke the guardian of the cards, Cerberus aka. "Kero" who looks like a cute stuffed animal because he doesn't have enough power to return to his true form.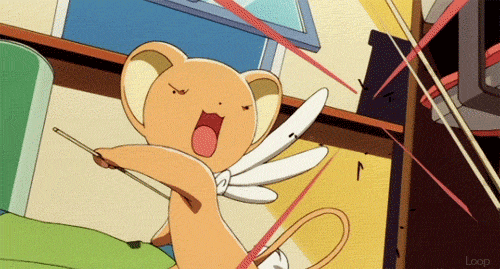 Sakura lives with her father and older brother, and we learn right away that Sakura's mom passed away when she was younger. She has a crush on her brother's friend, Yukito, and has a best friend, Tomoyo, that loves to dress her up and record her card captor adventures. Early in the series we are also introduced to Syaoran, descendant of Clow Reed and Sakura's rival. At lest at the beginning.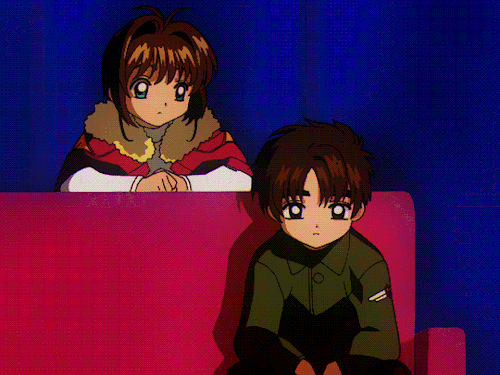 I believe this is all you need to know without spoiling much, now let me tell you my feelings on the series.
The journey through the four books is completely different from my previous experience. It feels shorter, but not rushed. In the books there are 19 cards to capture, while the anime has 52 cards or so. The first two books cover the adventures of the capturing of the cards, while books three and four deal with yet another mysterious transfer student with secrets of his own.
There are several cute subplots, some which are new. There are characters in the anime that aren't in the manga books at all, like Syaoran's cousin and his caretaker, and I felt their absence. Also, maybe because I'm older now, the only thing wrong with the series is the amount of "relationships" with huge age gaps; we are, after all, talking about elementary school kids, and I can't help feeling the wrongness of that.
I love the magic, the powers in each of the cards, and the cute outfits for each adventure. The cute transition between enemies to lovers between Sakura and Syaoran still gives me all the feels and honestly, the innocent approach to it all is gold.
Overall, I still adore the story and I can't wait to get my hands in the Clear Card series, which is still developing. You are bound to fall in love if you like manga, magic, and don't mind the cuteness at all.
My rating:
Here is all the info for each book:
Volume 1 Reading Challenge No.: 35/45 (2019)
Author: CLAMP
Publication Year: 2010
Format: Print
Add Vol.1 to your Goodreads, here.
Volume 2 Reading Challenge No.: 36/45 (2019)
Author: CLAMP
Publication Date: July, 2011
Format: Print
Add Vol. 2 to your Goodreads, here.
Volume 3 Reading Challenge No.: 1/45 (2020)
Author: CLAMP
Publication Date: February, 2012
Format: Print
Add Vol. 3 to your Goodreads, here.
Volume 4 Reading Challenge No.: 2/45 (2019)
Author: CLAMP
Publication Date: September, 2012
Format: Print
Genre: #Manga
Add Vol. 4 to your Goodreads, here.
Thanks for reading my review. If you'd like to follow my blog updates and more book and writing related news, follow my Facebook page, Two Arts in a World.
The next review will be of Loveboat, Taipei, which came out today! I can't wait to share with you about it and continue the 2020 journey with you.
Love, Lourdes